I get complaints from  the public (and my colleagues) that I'm over-simplifying or trivializing some topic by being so short. And I try to say that these things are already too frickin' long! If I don't simplify, every post would be like Municipal War And Peace. (Boy I really want to read that. Not.) Also, I can't assume that y'all actually watch these meetings. So if I go on with too many details, nothing will make sense–and I definitely don't want this to be like a 'cast commentary' on some really low-budget DVD. Anyhoo, I'm trying an experiment this week by breaking down some of the key items into separate posts because there were several details of procedure I care about a lot. Most of you will just read this. But if yer a real local politics nerdlicant (or just like trolling for incriminating evidence. 😉 ), by all means, drill down for more details.
This Week
Monday: Disassembling the Coho Pen at the Marina. With the good weather, the Marina needs room for more boats.
Thursday: City Council Meeting? 5pm? There'sNo agenda received, which is kinda weird because we're supposed to get it the Friday before the meeting so we can prepare. Here is all I got from the Futures Report.
Just heard from the City Clerk officially that the next meeting is actually 28 May (the Mayor mentioned that at the end of the last meeting but I wasn't sure as the web site hadn't changed.) You can still use the Futures Report if you want a look at what is likely to show up there.
Friday: Another webinar from the Seattle Southside Chamber Of Commerce. This time on 'how to re-open'. So far, these have all been very good. If you have a business or organization, I recommend you check it out.
Beyond that? Total mystery. Why not call me for a chat? (206) 878-0578.
Last Week
Monday: The City unveiled its  EATS Restaurant Voucher Program to support restaurant owners, seniors and vets. Discussion below.
Thursday: 5pm City Council Meeting (Video) (Agenda). Discussion below.
Friday: A really good Zoom presentation by Katherine Kertzman, President of the Seattle Southside Regional Tourism Authority (RTA). If you have any kind of business related to hospitality and tourism you should watch this.  The video is here: https://www.seattlesouthsidechamber.com/smart
You can download the Presentation File here: https://buff.ly/3blwqgV
Meeting Drill Down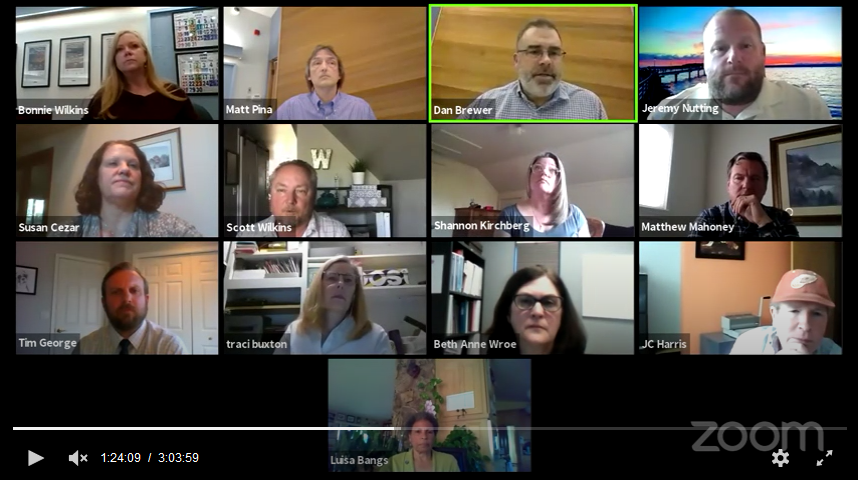 First off, why was CM Matthias absent? Whenever anyone is MIA, I want an explanation in the public record. It's one of my procedural pet peeves. For others, see below. 😀
National First Responders Day
In my comments I made two motions. The first was A proposal for a National Holiday for First Responders. The City will be sending a letter in support of the idea to Congressman Smith and Senators Murray and Cantwell. Given that this passed unanimously, I'm kinda surprised at the skepticism I've received from a few peers in other cities. In the comments I put my  reply to one of them. This makes me really appreciative of our Council taking action. I hope that they, in their contacts with other cities evangelize for this. It's the right thing to do.
City Manager Reports
My second motion was to direct the City Manager to provide weekly reports. And I discuss it here. If you've read these Weekly Updates, you know that one of my ongoing frustrations is that I have no idea how so much of day to day operations get done. I feel like these sorts of reports are critical to the Council's decision-making.
Emergency Operations
We had an Emergency Operations Center (EOC) presentation from Shannon Kirchberg which was really good. The work the City is now doing with the Food Bank shows some great coordination. And by the way, the entire community has stepped up in some pretty big ways. A shout out to resident Kevin Isherwood who's company GEICO (are they the lizard or Flo?) Anyhoo, they provided a $5,000 donation! You couple that with recent big ticket donations from Rotary and Legacy and now we're getting somewhere!
One reason I had been previously critical of the City's response was this: Des Moines, like many small cities has several organizations that are not 'the city' but kinda are. These include the Food Bank, the Farmers Market, Legacy, Destination Des Moines, etc. All these groups have been tightly integrated with the government, providing much needed services that, frankly, the government does do in many other places. We're proud to be a very volunteer-oriented community. So when an emergency appears, it is critical that we engage without delay with all these organizations because together we can leverage much better results.
EATS Program
The briefing on the EATS program was also good. My comment was that even though it's just getting started I hope it rapidly expands to do a lot more. This is what I was talking about last week regarding planning. The EATS program was designed to get cash to restaurant owners and to help Seniors get meals on weekends. Great start! Now: expand it. Make it open to seniors all over town–not necessarily as free vouchers, but perhaps at a 1:1 match for residents of Wesley, Judson, Adriana, etc. I know I sound never satisfied, but it's because the situation for our local restaurants is so critical.
The Budget
Another really good presentation and I encourage you to watch the slides. To save time, I deferred my questions (I had a gazillion) to a written note. I'll let ya know.
Anyhoo, you've probably heard that we're cutting $2.1 million dollars now in expectation of a 16% overall reduction to 2020 inflows. The important thing for me is that these adjustments are the easy ones (I hesitate to call them 'cuts' because none of these are things the public dreads.) And both the COO and Budget Director were quick to point out that, for now, we're in a good place. But these adjustments only cover a couple of months of cash flow.  This is just the beginning.
Now: I have been a fierce critic of the 2016-17 recovery strategy because it depended so much on fees I feel are not in the City's long-term interest: paid parking, red light cameras, utility taxes, etc. And I still hate them all. However, it must be said that COVID-19 makes them necessary for the foreseeable future. The Cities that currently depend on sales tax revenue (which is what I would prefer in a normal world) are going to suffer the worst as the entire retail market has collapsed. So despite my criticisms, I have to acknowledge that our current portfolio is probably not a bad place to be. At least until the small business market regains some clarity.
An Apology
I wrote a letter of apology to COO Dan Brewer. I raised my voice to him during the meeting and that was discourteous and unkind. People who follow these meetings or read my Weekly Updates know why I get so frustrated but I won't re-hash that as some half-assed excuse.
Consent Agenda Kerfuffle
Near the end of the meeting, there was some heartburn because I voted 'nay' on the Consent Agenda. Which, it turns out, is a procedural problem because it's actually called the Unanimous Consent Agenda. If it ain't unanimous? It ain't a consent agenda. This article explains the procedural issue and then discusses the importance of Meeting Minutes.
Good Husband Move
And last but not least: Over the years, I've groused about a lot of 'unnecessary' things at City Council Meetings. But every year, Harbormaster Scott Wilkins does some little 'surprise' Happy Birthday greeting for his wife, our Communications Director and City Clerk Bonnie Wilkins. It's become something of an annual tradition at Des Moines City Council Meetings and I find it utterly charming.