Heat? Too many appointments? Yeah, I got a lot of excuses for being late. Again. One excuse: I spent a few hours on Sunday handing out about 90 cold packs to residents. Normally, no one has any interest, but I get these all the time and if you'd like to have a few on hand for fishing, picnics, general cooling functions, just let me know.
Public Service Announcements
There are now vaccine appointments available every day now, including Walk-Ins at Walgreen's, Rite-Aid, SeaMar and Healthpoint.
This Week
Wednesday: Burien Climate Action Plan. This is something that every City should be working on: ways that we can reduce our climate footprint, both as a City and to give residents some tools to work as well.
Wednesday: Des Moines Historical Society. This may be their first formal meeting in almost two years. Now that the pandemic is over, I hope to hear how they are moving forward with their plans to remodel and build a better web site. I cannot tell you how important I think this is. Des Moines has an absolutely fascinating history–it was actually one of the first white settlements in the entire region. If we could present this information properly, it would be a tremendous asset, not just in terms of education and civic pride, but also in terms of marketing the City.
Thursday: Puget Sound Regional Council Growth Management Policy Board. The PSRC is releasing an update on their housing strategy.
Thursday: Meeting with HealthPoint Midway management. HealthPoint is a fantastic community resource that has been under-utilised. (For example, did you know you could walk over there right now and get your COVID vaccine whether you're a member or not? I'm talking to you Woodmont.) We'll discuss ways they and the City could potentially partner up to educate residents in the South end of town on their community programs.
If you get the impression that regional leaders have housing on the brain these days, you're not wrong.  Long-time homeowners and people in Senior Living have been somewhat shielded from the issue here, but a lack of housing is a huge deal in Des Moines. Rents are crazy high and waiting lists are super-long. And all that makes it very difficult for young families trying to get started here. The problem, as I see it, is that all very different words are getting conflated "affordable", "housing", "homelessness". They're not the same thing. But by lumping them together, they all get demonised so as not to build anything.
Last Week
Monday: I attended a seminar on Chronic Homelessness hosted by former Governor Christine Gregoire. Here is the presentation. I've been studying this for a good while now and I asked a question that I can never seem to get an answer to: "How many?" The chart below is the only thing I could find and vague is a word that comes to mind. 😀 (I spent part of this week researching why we don't get accurate counts. More to follow.)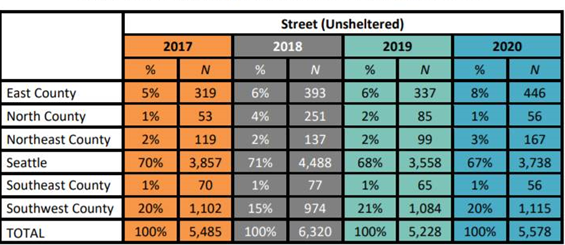 Monday: Destination Des Moines meeting. A kerfuffle over what can and can't be scheduled. No fireworks, but there are some cool events coming and there will be the Blues And Brews in August.
Tuesday-Thursday: Association Of Washington Cities (AWC) Annual Conference.  A get-together of local electeds from all over Washington. There were seminars on all sorts of governance topics. You're supposed to get credit towards something called a "Certificate Of Municipal…" … er… something. Councilmember Rob Back had one.
Tuesday: Port Of Seattle Commission Meeting (Agenda) Many of you are objecting to the parking lot project which would eliminate North SeaTac Park. The advocates don't particularly need my help, but I commented because I felt like I needed to emphasize for those activists that the Port's standard line "we'll address this fully in the environmental review process" is simply disingenuous and they should not be distracted by that. I urge everyone to sign up to help Save North SeaTac Park.
Thursday: South King County Housing Homelessness Partners Executive Committee. My comments re. Governor Gregoire's Webinar would apply here as well.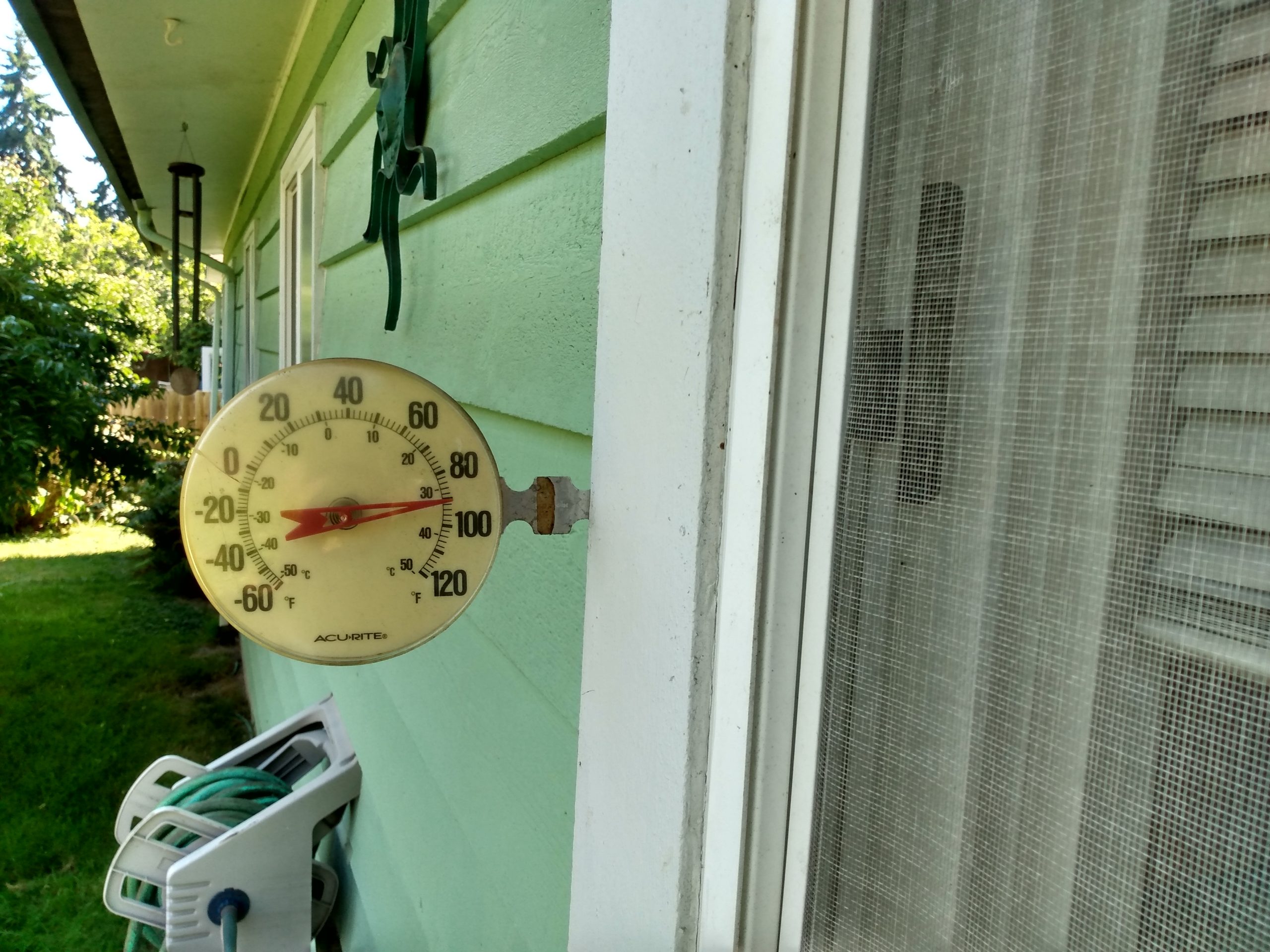 I hope you've survived the heat. And if you haven't? Well, you're not reading this anyway, so… 😀
Is it just me, or does it feel like these low-rent 'emergencies' are basically coming somewhat constantly now? I ask because I've had this *bee in my bonnet for a long time about the topic of Emergency Management. It was one of the original things that made my colleagues and the administration love me so much, but the reason I gave them a bit of a hard time goes back several years…
Thanks for the heads up…
In September 2013, Water District 54 took one of their routine readings, got a positive for E-Coli and issued a Boil Water Notice. As prescribed by law, they then took a second reading, got a negative and that was that as far as the *immediate public health issue.
The thing that nagged at  me was that there was no mechanism for notifying the public. I went door to door that evening alerting my neighbours. Thankfully, WD54 is a very small water district (1,500 homes) and it turned out that there was no actual health problem. But what killed me was that, three days later, I received a letter in the mail notifying me of the Boil Water Notice.
So I emailed then Mayor Dave and we got into this whole thing about what the City's responsibility is in these situations. (Now say what you want about Dave–and I do–but the guy always returned my phone calls and emails.) My feeling was, then and now, that I don't give two shits whose 'responsibility' it is, I would want the public notified. I asked him if he might contact Comcast and see if they could do for us what they do with Amber Alerts (throw up emergency messages) and he told me no way. (I brought up the same idea at the Comcast Renewal vote last fall and my colleagues looked at me like… you know that look dogs give you when they cock their head? :D)
Another day, another spill…
As most of you know, we had another spill at Midway Sewer on June 16th which closed the beach. And again, it wasn't 'our fault'. And again, I don't care. What I do care about is that so many agencies–including the City Of Des Moines–were notified almost immediately, but for some reason, the public wasn't notified until June 22nd.
Since I started doing this Weekly Update, I've been bugging about our infra-structure. It's boring, expensive and the public expresses reluctance to pay for it. But this is like the fifth such incident since I was elected and I keep trying to tell ya: it's gonna keep happening. OK, maybe not that thing, but some other thing. These '100 year events' keep happening like every year now.
In the meantime, I believe it is the City's responsibility to have a system to inform all residents as soon as we know about any possible threat to public health and safety and currently we do not.
See all these different agencies are independent governments and agencies. Water Districts, Sewer, Utilities. And the fact is, they don't have the budget for comprehensive warning systems. And why should they? When anything happens, one of the first things they do is to alert the City.
So if another agency doesn't have the capacity to reach the entire community, we must find a way. There can be no excuse for any delay.
Now, we do have programs like CodeRed (which you should all sign up for). But the fact is that you probably haven't signed up for it. And besides, I think this is too important to leave to some opt-in deal like that. I think it is the government's responsibility to figure out how to get the word out when it comes to matters of public health.
One last thing…
Hero of the Left Jon Stewart was on TV the other night with a skit that would've been unthinkable even a few months ago.
The thing that's frustrating about politics is that a certain amount of the time there are things that you just can't talk about. The Left frequently bashes the Right for closed-mindedness, but in this case, because the message was coming from Trump, the perfectly reasonable notion that the virus might have emanated from a lab designed to study corona virii was out of bounds.
Since the day at that Joint Emergency Operations Meeting last March, I've been branded by some of my colleagues as somehow 'down on police', when all I asked for was to focus a little less on the morale building and give the public some basic information on how the program works. The administration thought I was snippy and unsupportive, but the fact is that I had shown a genuine interest in emergency response years before I joined the City Council.
This is my worldview: We cheer when the City pulls off a Cooling Center at the last minute. Thank you. Really. But a fair question should also be: Given our demographic of elderly and low income residents, why don't we have that kind of thing ready to go in advance?
And again, I'm not picking on WD54 or Midway Sewer or Police or anyone. I just want to know so we can do better next time.
Now, let's get real girlfriend: even if the makeup of the Council was radically different, I'm not sure I could get attention on these sorts of things. They are technical, boring and there always seem to be more immediate passions. Part of the reason I come off as cranky to so many people is because I want everyone to focus on these  nuts and bolts long-game issues. And I want everyone to be able to look at how we're doing without defensiveness and partisanship. They're just too important.
Because, †all bullshit aside, we keep dodging these bullets. In fact, we're not even realising that they are bullets. But sooner or later, one is going to land.
*this is me using my family-friendly-filter. 🙂
†My wife's fave expression of all time. No filter.