Last time I said that there was simply too much stuff going on to fit into one post. And then I got waylaid with 'life' and I abandon the whole 'bonus' thing. And then I got double-waylaid by life and my next fallback was, "I'm takin' the week off. Screw this 'weekly update crap!" 😀 But all that does is fill my Inbox with people who think they're 'Unsubscribed'. (Which doesn't happen.) The problem is that a lot of the time the issues I want to write about require a certain amount of research to do justice–which is why nobody writes about them. 😀 Anyhoo… if you don't get this thing on Sunday… or Monday… or even Tuesday, I HAVEN'T QUIT. Or died. Or whatever. It probably just means that the wind died or I ran outta gas and didn't make it back. 🙂
Public Service Announcements
This Week
Thursday: Public Safety Committee Meeting (Agenda) Meet the two K-9s.
Thursday: City Council Meeting (Agenda)
Sign up for Public Comment here. Watch on Channel 21 (Comcast) or on the City's Youtube Channel.
All Over The Map
8th Avenue Rebuild
My report that 8th Avenue between 223rd and 227 is getting redone got several letters. Which surprised me because I figured everyone knew about it. I honestly don't have any more details right now except to say that the City and Water District 54 are partnering on this and that it's going to happen this summer.
Transportation Committee Meeting (Agenda)
Work on the both the light rail and SR 509 are really starting to move. You can see SR 509 happening over on 200th and 24th.
You can also see work happening at the 216th bridge over I-5. That is the beginning of a tunnel portion that will go under 216th near Military and will be done over a'long weekend' around July 4th.
You can also see lots of columns being placed east of Pac Highway. Those columns are sixty feet deep (or more) because we live in kind of a swampy part of Puget Sound. If you go back 150 years a whole lot of what is now Des Moines was under water or part of a wetlands.
Environment Committee Meeting (Agenda)
We discussed two big deals and I wish the public could get more engaged on these Committee meetings. First, we had a presentation on WRIA, which has to do with salmon recovery efforts in the area. Massey Creek, which has been re-routed several times no longer has proper fish passage. The State will pay for opening up that creek so that it can drain properly out to Puget Sound a bit south of the Des Moines Yacht Club. If the City could purchase a bit more property in that area, we could conceivably create a whole new park or other opportunities for the area.
Another big deal is what is called 'de-armoring'–removing the barriers on the shoreline. The State is insisting that as many beaches be de-armored for the sake of the environment. Burien has been struggling with this issue at Eagle Landing. And I learned last week that this will also include Saltwater State Park. When that occurs, the water will freely overflow the shore and we will likely lose a large amount of the parking lot or walking path. I don't want to
Redondo Fishing Pier/Bathrooms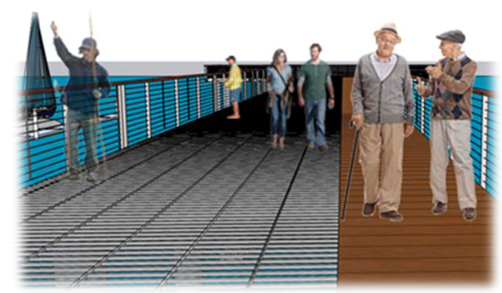 http://desmoineswa.gov/211/Current-Projects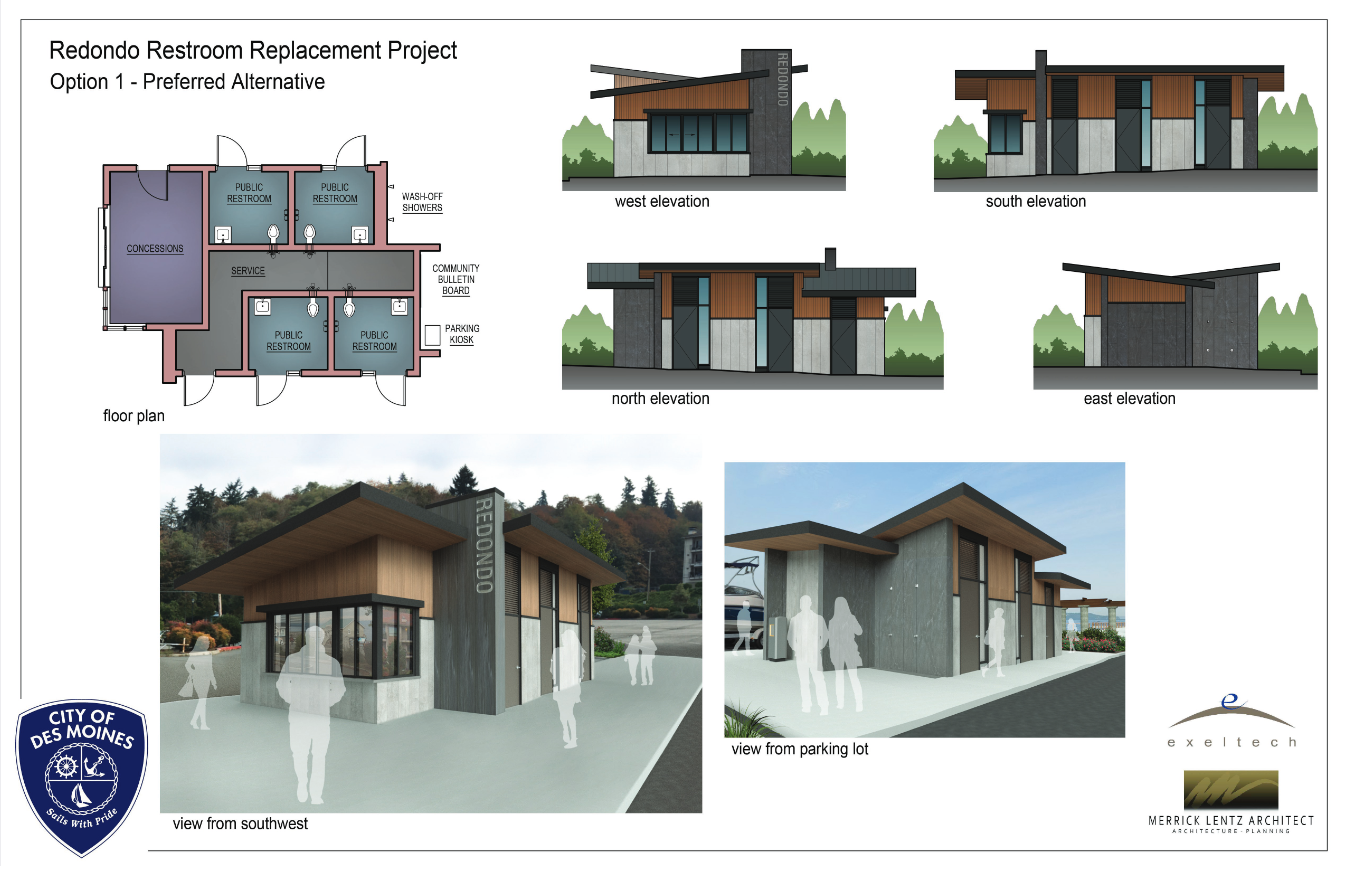 Along with redoing the Pier we're also doing bathrooms. Great idea but I want us to hold off on that for at least a year. Why? Because I want us to decide on a design theme for the Marina. You know, the overall 'look'. Why? I think it is very important that we develop a consistent brand for Des Moines. All our parks should have the same look and feel. That's what all great brands do. We kinda/sorta started a theme with the rebuild of 216th. We have the sailboats, the blue columns and so on. Any good artist/architect could expand on that and develop a look that we could then incorporate everywhere in Des Moines: The Marina, Marine View Drive, Redondo. We want visitors to know that they're in Des Moines whether they're at Redondo or North Hill and you do that by establishing a consistent branding. I want my colleagues, all our various civic groups and the general public to have time and multiple opportunities to consider what that theming should be and then start building from there.
Marina Bulkhead Repair
CM Martinelli voted against moving ahead with this repair as part of a very convoluted series of three motions. He kinda made a good point, but not for the reasons I would have.
The repair was held up for over two years waiting for a permit from Federal Agencies. What was frustrating is that the Council never received an explanation as to why this was held up. And that bugs me.
Ultimately, I want us to move forward immedaiately because with climate change there is now a serious risk that a large storm (see: King Tide) could put the entire marina floor at risk.
The City has maintained that the permits (there's more than one) have been held up by 'politics'. Adam Smith was asked to try to intervene at a few points (which is, at the Federal level, like asking a CM to intervene at a City level—not a lot he can do.)
But the feds do have some logic behind why they held up the permits. I have asked repeatedly for the substance of the objection. But all I've been told is that it's 'complicated'. I have not been able to see a 'complicated' document which explains the various objections. And whether or not I'm too dumb to understand the issues in play, I'd still like to have a crack at it. You know–put some of that there collidge edjercashun to work. 😀
The argument from some of my colleagues (the City has not said this directly). is that it's costing the City 'millions' in delay. I can't say whether it did or did not. Frankly, I doubt we would've done much last year with COVID anyhoo.
But regardless, we needed to move forward because of the frailty of the current structure. But I'm left with the nagging feeling that I'm contributing to some form of environmental damage to our shoreline and that is not a great feeling.
I do get letters
Doing this Weekly Update brings up some real problems. Obviously it takes a certain amount of time to write these. The number one comment I get is 'TLDR' (too long, did not read). I don't know how to strike the right balance, but I'll keep trying. Please let me know what you think: shorter/longer?
Oddly, another problem is 'not enough context'. Basically, people who do not watch the meetings will want me to explain every damned thing that happened so that they can 'get' the commentary. There simply aren't enough hours in the day for that, folks. You have to watch the meetings. The recaps that the City Clerk does are great, but they don't explain the why any more than the agendas or minutes do.
Finally, I always get a few "You're making the City look bad" comments. And I'll just reiterate what I say about that: I hear you. But I'm not doing anything–except pointing out some real problems that matter. This is not like an episode of The Office where I'm complaining about the order of pencils on my desk. When the meetings don't run well, one side is taking advantage of that either to move their policies forward or to prevent me from furthering my ideas. Yes, politics is a game, but if you can't believe that the game is being run fairly, there's almost no point.
Occasionally I'll hear a variation on this from my colleagues, "Developers will be turned off by our City if we aren't unified as a Council." That is factually inaccurate. A developer chooses to do a project in Des Moines if the numbers are right. They could mostly care less about our City Council. Really. Because with Council/Manager government they don't deal with the Council. They deal with the Administration. The Council could be having daily food fights like in a Marx Brothers movie and no developer will care so long as they are being dealt with fairly by the Administration.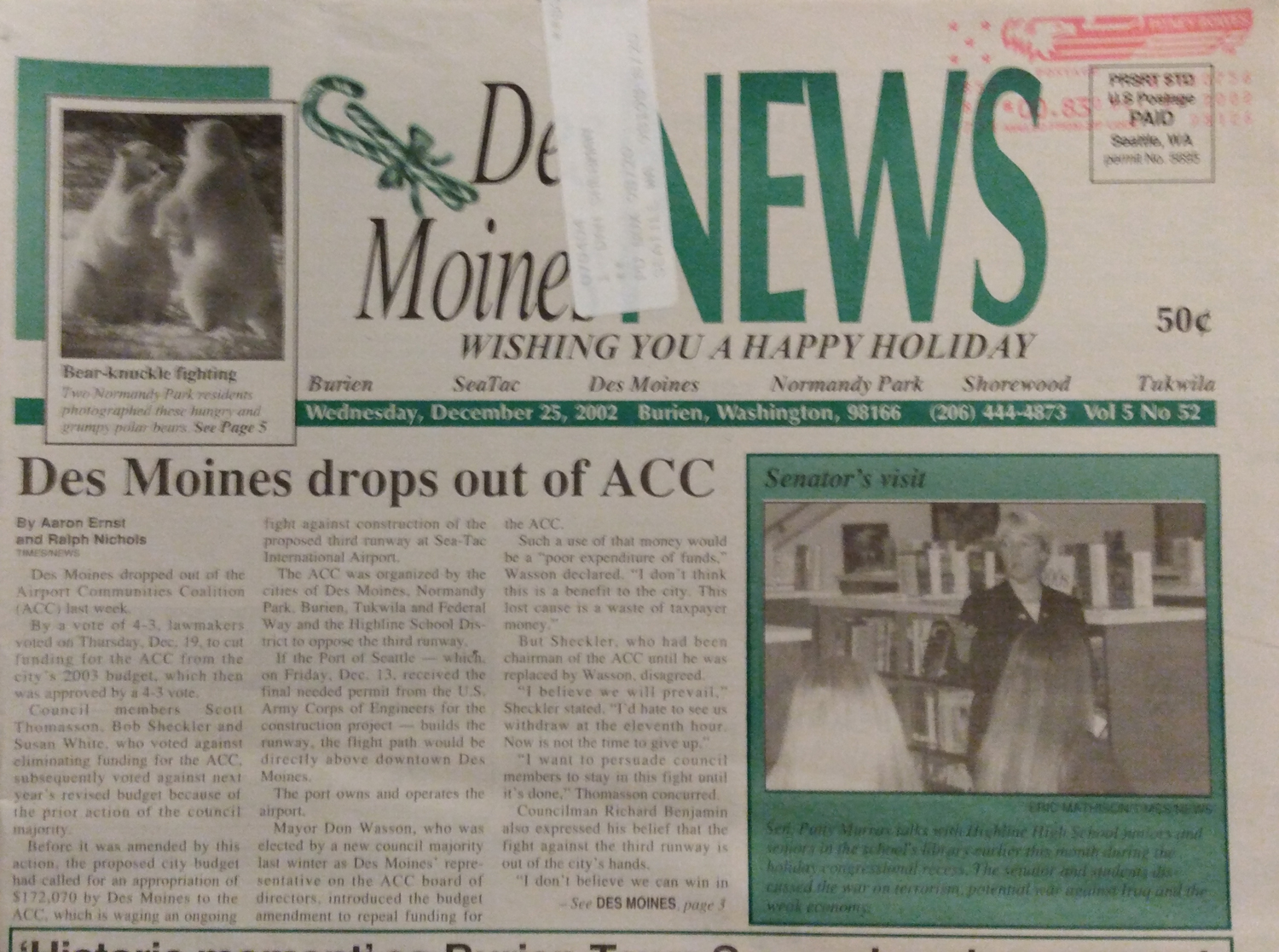 One last note. At some point, I'm gonna start posting old issues of The Des Moines News. And if you haven't been here long enough to remember (or if you've just forgotten) we have always had friction on our City Council. The only reason it didn't seem like it for the past few years is because we don't have a newspaper. Trust me. If you think this is messy, just wait til you seem some articles from 2002! 😀 (The above is an article documenting a typically rancorous meeting during the Third Runway fight.) We survived then and we'll survive now. And maybe when we come out the other end we'll have some calm that is earned by virtue of a better running system.