Subject: Stepping down from the DMPD Diversity Task Force
To: Chief Ken Thomas,  Des Moines Police Guild, City Council, etc.
To the Members of the Des Moines Police Department Diversity Task Force,
I am regretfully writing to inform you that I am stepping down from the Diversity Task Force.
In joining this Task Force, my hope was built upon the expectation that the lived experiences of marginalized community members would be respected and prioritized.  I was told that the goal of the task force was to implement training on unconscious bias, and that opinions that provided different perspectives were welcome, particularly since I was not only a woman of color, but I had been working in the field of diversity and inclusion for over two decades.  I have facilitated Diversity and Inclusion Workshops throughout the country, from Atlanta to Hawaii, and all points in between and I have worked with all levels of employees, from line workers to CEO's, from police officers, to scientists, to politicians.  I've taught college-level classes on Diversity and Multiculturalism for 13 years and I worked with educators as a facilitator for the Anti-Defamation League's A World of Difference Institute leading prejudice reduction workshops.  So I came into this Task Force with a wealth and breadth of experience.  Social justice is something in which I believe passionately, and I was honored to be asked to be on the Task Force.
The first meeting was in August and I am still not clear on what the goal of the task force is.  There was one sparsely attended meeting in the fall in which diversity topics weren't discussed at all.  I'm really not sure why.  At the end of that particular meeting, body cams were discussed, but for the most part I can't recall what was discussed; I only remember thinking to myself, what does this have to do with diversity?
It is now March, seven months after the initial meeting and absolutely nothing has been accomplished.  There has been no discussion of training.  I feel that whenever issues around race are brought up, there is a feeling of defensiveness and attempts to justify actions by the police.  I tried to open up an honest conversation about the disparity between how black protesters are treated vs. the way white protesters are treated given what happened at the Capitol on January 6th.  There appeared to be a clear division between the people of color on the task force and the white officers on the task force, with the people of color feeling strongly that there is a disparity between how POC and white people are treated by law enforcement.  This is a quote from Robin DiAngelo: "If you haven't spent years of sustained study, struggle and focus on issues of racism, then your opinion is necessarily limited."  Whose opinion on racism holds more weight—those who have experienced racism, or those who haven't?  What I felt was the invisible blue wall of silence go up.  What I believe is not understood by everyone in this Task Force is that racism does not necessarily have to be intentional.  Racism is a structure that maintains whiteness as the status quo. In this police department, whiteness is the status quo. If this Diversity Task Force cannot agree on what the realities are on racism in policing, what is the point of having the Task Force?
It was brought up during the first meeting that there were officers who weren't happy that the Diversity Task Force was being put together.  As a former Diversity Consultant, I have worked with Police Officers in another jurisdiction and there was definitely a lot of reluctance going through Diversity Training on their part, so I don't find this surprising. During the January meeting, I brought that issue up again, asking WHY those officers weren't happy. The response to that question skirted the issue, stating that there were "different opinions" about the Diversity Task Force.  But the different opinions about the Task Force were never specified, leaving one to wonder, just exactly what ARE those differing opinions? And in fact, if there are officers who aren't happy that the Diversity Task Force exists, why is that?  Does it conflict with their value system, their ideology?  Do they not value diversity and inclusion?  The only way we would know is if we knew what their opinions were.
Too often I have seen Diversity and Inclusion programs or Task Forces be implemented yet no change take place.  Organizations do this just to "check the box", to say they did what they were supposed to do.  In the wake of the George Floyd murder, maybe it looks good to take that step.  But if this is just performative, then this is not the right task force for me.
Des Moines' demographics have been steadily changing over the past two decades.  I've put together the attached Excel graphic (Des Moines Demographics 2000-2020) to show how the population has been changing since 2000.  There are currently about an equal number of people of color in Des Moines as there are white people, yet the police department does not reflect that reality.  If your department doesn't reflect who they represent, how can you adequately protect and serve them?  These numbers will continue to change and people of color will become the majority.  How is the police department going to adequately understand the needs of the population it serves if the 99% of the officers continue to view things through their own cultural lenses?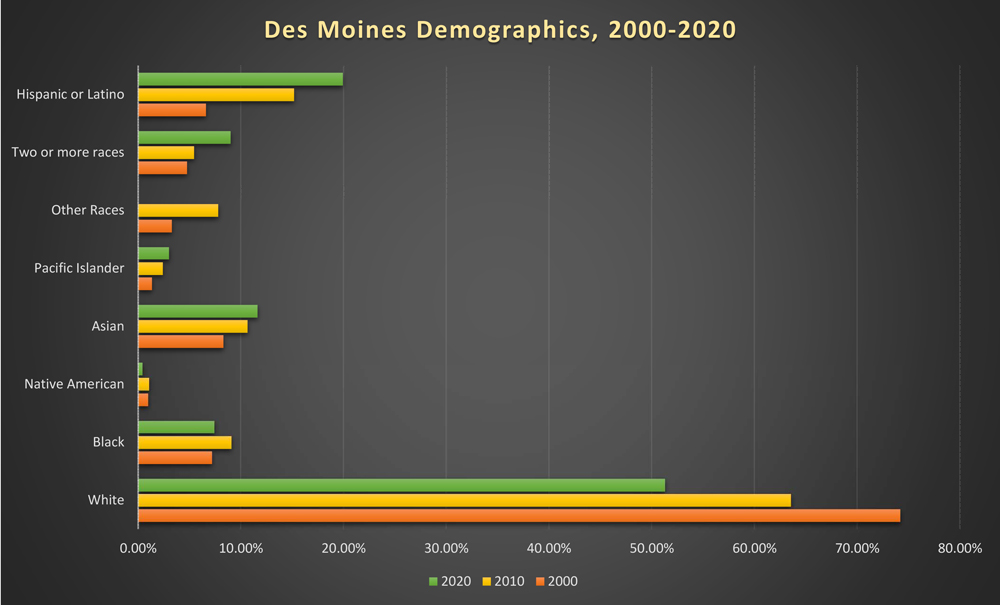 One suggestion I have is that a third party outside of the police department with professional experience in diversity and inclusion act as a facilitator for the task force.  I believe that would be a better way to conduct task force meetings and to keep topics focused on diversity-related issues.  I also feel there should be more gender diversity among the people of color—where are the men of color who are not police officers?  Whether intentional or unintentional, there seems to be an out-of-balance power dynamic when the police officers are almost all White males and the citizens are all women of color.  Also, since this is a city government organization, I don't see why City Council members should be banned from attending task force meetings.  I am aware that Councilmember J.C. Harris has asked to attend the task force meeting and was denied, and I am not sure I understand why.  It would seem to me that complete transparency would be a good thing.
I've attached some articles for your information.  I hope that in the near future you are able to determine what your diversity and inclusion goals are and accomplish them.
And I strongly urge EVERYONE on the task force to read "White Fragility" by Robin DiAngelo.
Also, I think you will find this an eye-opening video to watch:  A Conversation With the Police – Uncomfortable Conversations With a Black Man – Emmanuel Acho has a conversation with the Petaluma Police Department "Proximity breeds care; distance breeds fear." –  Emmanuel Acho
Meg Tapucol-Provo
Notes on the attached articles: