Public Service Announcements
The delta variant is no joke! Fortunately, there are now free vaccine appointments available every day, including Walk-Ins at Walgreen's, Rite-Aid, SeaMar and Healthpoint.
The deadline to register to vote online is October 25. Voters can register and vote through 8 p.m. on Election Day at any of KCE's Vote Center locations.

Wednesday October 13, 6PM Aviation Town Hall with Rep. Adam Smith and 33rd District Sen. Karen Keiser and Rep. Tina Orwall!

Wednesday October 13, 7PM On-Line Candidate Forum hosted by Yoshiko Grace Matsui and Jayme Quinn Wagner! (and to prep, you can watch last month's Seattle Southside Chamber Of Commerce Candidate Forum!)

he Utility Moratorium ended September 30. Help is available, but act now!
Please comment on State legislative districts for the next ten years!
Sign up now for the King County Emergency Alert Program
Please join the Trusted Partner Network – King County
We're about to update our Parks, Recreation and Senior Services Master Plan. Comment on any aspect of the system by email: parksmasterplan@desmoineswa.gov
We're embarking on the redevelopment of the Des Moines Marina. Please read the Draft Master Plan and then my Marina Redevelopment Talking Points. This is the largest capital project in our city's history and we need your input! Send your questions and concerns to marinamasterplan@desmoinewa.gov.
I know you want to help save the Masonic Home. So sign up for the new site hosted by Washington Historic Trust!
City Of Des Moines Minor Home Repair Program This is one of those great programs the City has had in place since forever, but we only advertise every quarter in the City Currents Magazine. Basically, low to moderate income households can get grants to do all sorts of necessary repairs. Just email Minor Home Repair Coordinator Tina Hickey (206) 870-6535.
Every home should have a Carbon Monoxide Detector–especially during the colder months! Full stop. If you need one but money is tight, South King County Fire And Rescue will get you one. Just call their Community Affairs Office at 253-946-7347.
And last, but not least: If you have a Port Package that is having issues, please email SeatacNoise.Info with your address!
This Week
Monday: Meetings with candidates for Port Of Seattle Commissioner. Can I share one of my frustrations? 😀 The big mistake all our Cities make in dealing with the Port is talking about the wrong things. Many of the things residents want the Port Commissioners to do, they legally cannot do. They're not lying about their lack of control over various aspects of Sea-Tac Airport. You can grumble about the unfairness of life all you want, but that's just the deal. The other side of the coin are my pro-Port colleagues who think that the Port is this economic fountain for Des Moines, while completely ignoring the environmental impacts. That too is ridiculous.
Candidates for Port Commission all basically have the same message. Jobs, economics. Progressive or conservative, they can talk all they want about 'environment', but the fact is that they all have to operate within a certain window. Also: the Port is like the City Of Des Moines. It has a very high complexity number. And a Port Commissioner is a part time job. They have no hope of understanding the issues and the corporation for several years.
What we should do is to educate every Port Candidate as to what they could be doing for us. We know what is possible. (And it's significant.) But we never do. As I said, either the City gets hold of them with some minor economic pitch or the airport activists ask them to work on things they cannot do. The Port lobbies us. We should lobby right back.
Wednesday: Des Moines Parks Master Plan Update @ Senior Center 6-8PM!
Wednesday: Des Moines Marina Association Meeting. You can visit their web site for information on the Marina Redevelopment.
Thursday: I will be giving testimony at the Joint Legislative Audit & Review Committee in support of continuing to fund a tax credit for local journalism. No, we don't currently have a newspaper in Des Moines. But hope springs eternal. 🙂 That tax credit is one of the few things keeping local papers in business and we must support it in order to keep the possibility of local journalism alive.
That's it. The rest of the week is a black hole of emptiness. So give me a call and tell me what's on your mind about Des Moines (206) 878-0578.
Last Week
Thursday: Puget Sound Regional Council (PSRC) Growth Management Board (Agenda).
Thursday: City Council Meeting (Agenda) (Video) One highlight was a presentation by Skylab Architects of Portland which did the original renderings for Marina Redevelopment. The Request For Proposal (RFQ) is also supposed to be unveiled–which will flesh out some of the details on the various building proposals.
The other issue was a first reading of our ordinance to comply with HB1220–the new law insisting that we develop zoning to allow for homeless shelters and develop a more aggressive approach towards Affordable Housing. This is another one of those policy issues that I know the public cares about, but which no one ever shows up for. Please watch the presentation and then show up for the second hearing in October.
Happy Labor Day!
I just realised: I've been a member of four unions: two for musicians, one for electrical workers and one for professional engineers I kinda forgot about.
I was required to join a union for a factory gig I had in college. Being a jerk, I kinda laughed at how seriously my co-workers took the union. But that was because I was 'going places'. For them it was their j.o.b. I don't know what it did for me except that, in spite of being around a lot of dangerous electricity I do not recall anyone getting hurt and I got paid slightly more than I expected. Today, that job would be done by  a computer and a robot and both would have better attitudes.
When I moved to Manhattan it was a rite of passage to join the musicians union. It meant that you were making a (real) living wage in the greatest city on earth. Now? The few remaining union musicians are mostly in orchestras. Ironically, the biggest bargaining issue was also automation. We all knew we were being replaced by synthesizers and computers.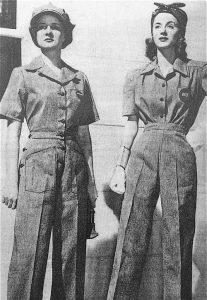 My last union vaguely optional. The idea was to organize professional engineers to negotiate contracts with the State Of Michigan as a single unit. At the time, I thought it was kinda cockamamie because despite any merits of the idea, its success depended on the willingness of a bunch of independent-minded guys to cooperate. Candidly, we were nothing like these women or any other model of solidarity. So we self-destructed. No robots required. I now realize that it was a very worthy goal and very much ahead of its time. Some of us did better without the union, some worse. But it would have simplified very useful things like health insurance and retirement planning for all of us–things you don't pay attention to when you think you're special and have all the time in the world. There's a lesson there. Maybe. 😀
The older I get the more I see the benefits of organized labour. If you're an employer (or a City) you're not always thrilled to be on the other side of the table. But opportunities to spend one's days productively and to be paid fairly do not happen by themselves. Sooner or later we may all get replaced by a robot. But if no one speaks up, you most definitely will.
Something I think about is how much I took for granted the stability on my street in Des Moines. It's not at all a wealthy neighbourhood. But everybody seemed to have jobs they liked and that paid enough to get their kids through college. I've decided that it is that simple lack of anxiety that defines 'the American Dream' for me.
I hope your Labor Day has been relaxing. And I hope you enjoy your work. I hope it affords you the freedom to live the way you want to live today and the security to feel hopeful about tomorrow.