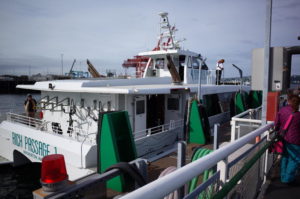 If elected I will do everything in my power to get a Fast Ferry Service in South Puget Sound, linking Seattle with Des Moines and Tacoma.
Here is a great story on the concept of a Fast Ferry courtesy of KUOW radio.
This is one of those solutions to traffic that is so face-palm obvious that it serves to demonstrate how much we're all in thrall of the automobile. But the fact is that Puget Sound had a 'Mosquito Fleet' for years and years. We focus so much on some 'ground' solution we forget that we have another potential transportation system which is much greener, right at our Marina!
Most people don't realize it, but originally Des Moines was a necessary stop-off for ships heading south. We are actually a deep water port that can handle very large ships with ease.
When people get on any boat they are amazed at how fast it is getting to Alki. We forget that Des Moines to Alki is actually a short distance in a straight line. It's schlepping up 509/99 or winding around Ambaum that makes it seem like it's a million miles away.
The kicker for me? A Fast Ferry would be sooooooooooooooo much cheaper than the Sound Transit Light Rail for which we have to wait until 2023. Even better, implementing a stop at Des Moines could be accomplished in much less time.
All we need is the political will to bring together the necessary stakeholders to make it happen.