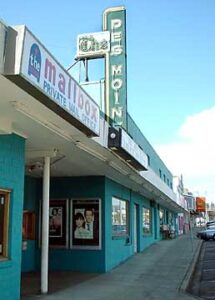 The core of the Des Moines downtown is defined by the two traffic triangles on Marine View Drive, the 'head' being the entrance at the flag pole on Des Moines Memorial Drive and the 'tail' being the traffic light Kent Des Moines leading into Zenith. And when I moved here that length was anchored by two businesses: the QFC Grocery to the north and The Des Moines Movie Theatre to the south. Sadly, both are now gone since the recession and I think their absence says something about the state of our downtown. To me, downtown still feels like a bit of a patchwork. Sometimes it doesn't feel like we've still truly recovered. Many business remain, but some shops seem hobbled and a few are still boarded up.
The Des Moines Movie Theater was, like all local movie houses was kind of funky and shabby (was it ever). But I have fond memories of Saturday nights with popcorn in hand at the show. During those years I really felt like our downtown was coming together with new shops and a sense of community. But now? The fact that we still haven't figured out what to do with that space since its closing speaks volumes for the current state of downtown.
As we can see from other recent theater closings throughout Puget Sound, icons like The Des Moines Theater are likely no longer viable. However, a unique and dynamic anchor must be a part of our downtown's long term strategy. We cannot leave such a prime location to whatever business just happens to come along. We need a fresh plan for the area that will be a magnet for visitors and a gathering place for our residents.
As for the other end of Marine View Drive? Like many of you I was very upset when I heard that QFC was leaving. I felt that a series of very public meetings should've been held to discuss what could be done to try and retain QFC and failing that, to discuss the future of that space for the community. It all felt very sudden.
That said, I've heard good things from some locals about its replacement, The Dollar Store. However–I want to say this as carefully as I can–I have to say in all honesty that it would not have been my first choice for that key location. Again it has nothing to do with that business or its owners. It's simply that for so many residents QFC was such a key part of the fabric of the community. It was our grocer and I still miss it.
The downtown is key to the developing a successful vision for Des Moines. And it is my view that certain anchor spaces are crucial to realizing that vision. These spaces are about more than just finding a buyer, collecting sales tax and hoping for the best. The community should have a voice in that. And then real urban planning skill need to be brought to bear to turn that into a fully realized vision.
Over time, too much of Marine View Drive has been left to the whim of one business or just plain happenstance. Sometimes it's been good luck, but more often not so much. Given the unique gifts of our waterfront, it should be the policy of the city to develop the downtown thoughtfully and with a deliberate strategy. And at every step of the way we should engage the community fully in that process. Our goal should be to make the Des Moines downtown live up to the unique potential of our waterfront for residents, business and visitors.